About
A few months ago, I decided to move to Bali, an island famous for its beautiful sandy beaches, sacred temples and breathtaking landscapes.
I no longer really knew what to do with my life in Europe, so I felt a crucial need for change and to surpass myself.
After a 24 hour flight, I arrived on the island, greeted by an incredibly welcoming smell. I quickly realized that I had packed way too many things in my suitcase.
In Bali, we live simply, without trying to hide under tons of makeup or extravagant clothes. Here, we let ourselves live and we wear light and comfortable clothes.
I couldn't find the outfit I wanted here, so I came up with the idea of ​​customizing one.
Ten days later I find myself dressed in this set which corresponds 100% to my desires, a smiling woman approaches me during my order in my favorite cafe in Bali, asking me where my set came from because she loved it , and a few hours later, the music melts in my ears on my scooter in the middle of a traffic jam on the roads of Canggu, a woman next to me asks me the same question, and that's how the idea came to me.
After a few exchanges with my friends and family, my mad desire to embark on this field which was totally unknown to me was born, here is Esmée the label.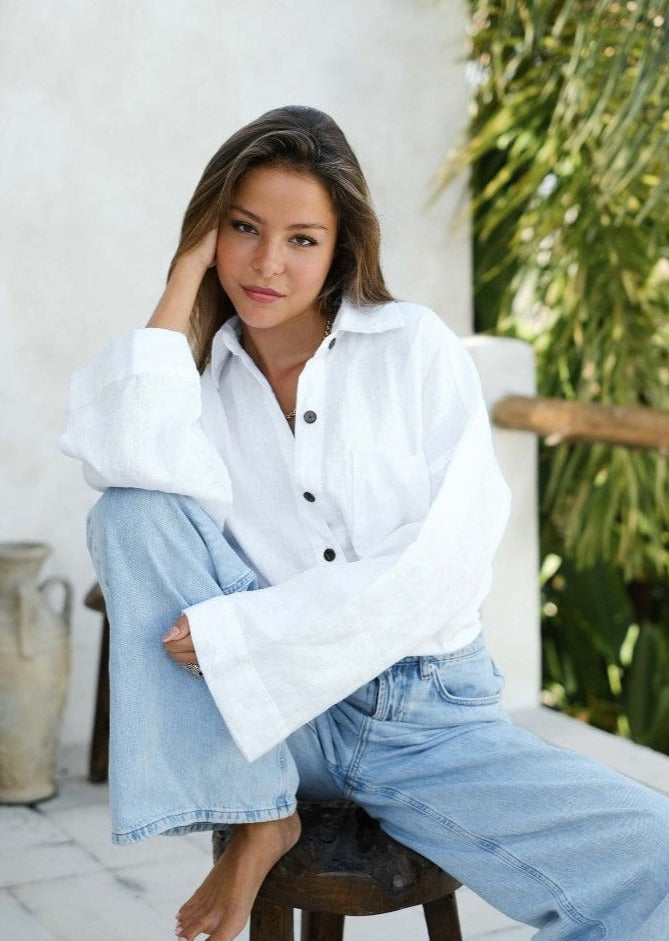 The core value that guides my journey with Esmée is timelessness. My goal was to design elegant and timeless pieces, transcending ephemeral trends, in order to adapt harmoniously to all morphologies and all lifestyles. Beyond aesthetics, comfort has always been a priority for me.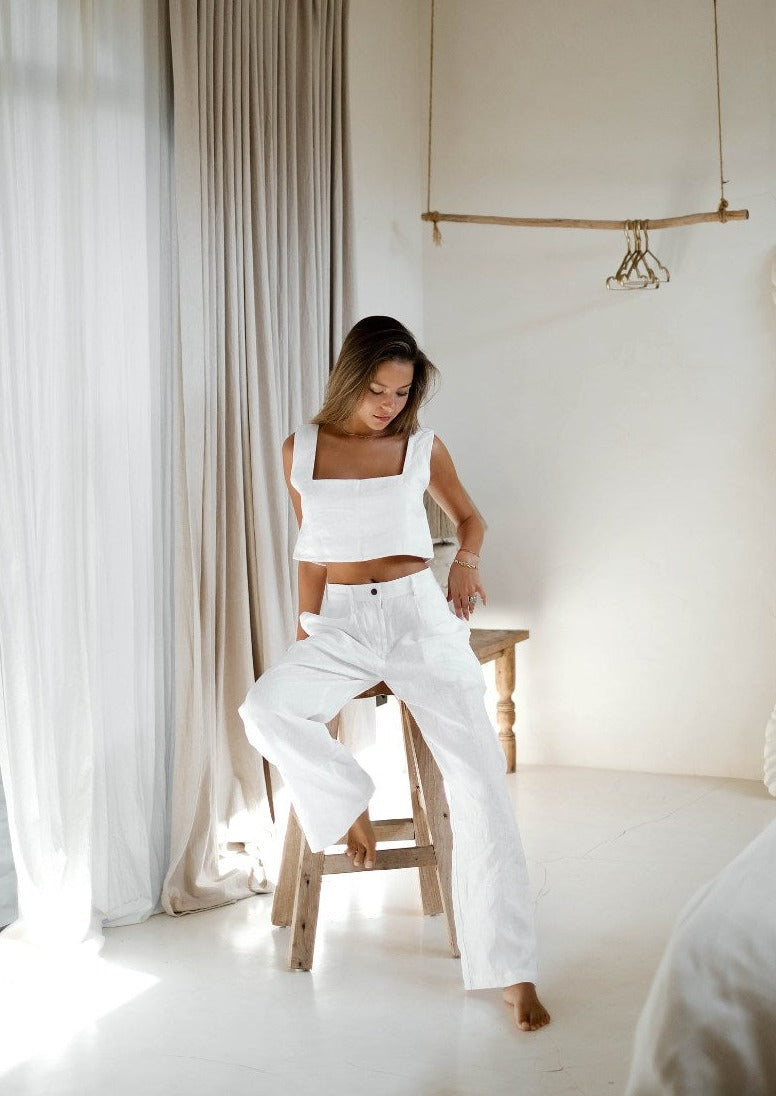 Particular attention has been paid to the selection of fabrics, with the aim of offering optimal comfort. I made the choice of high-end materials. These natural textiles delicately envelop the body, providing a sensation of exquisite softness while allowing absolute freedom of movement. At Esmée, comfort is uncompromising, because I am convinced that if we feel good in a garment we will naturally be more comfortable and shine.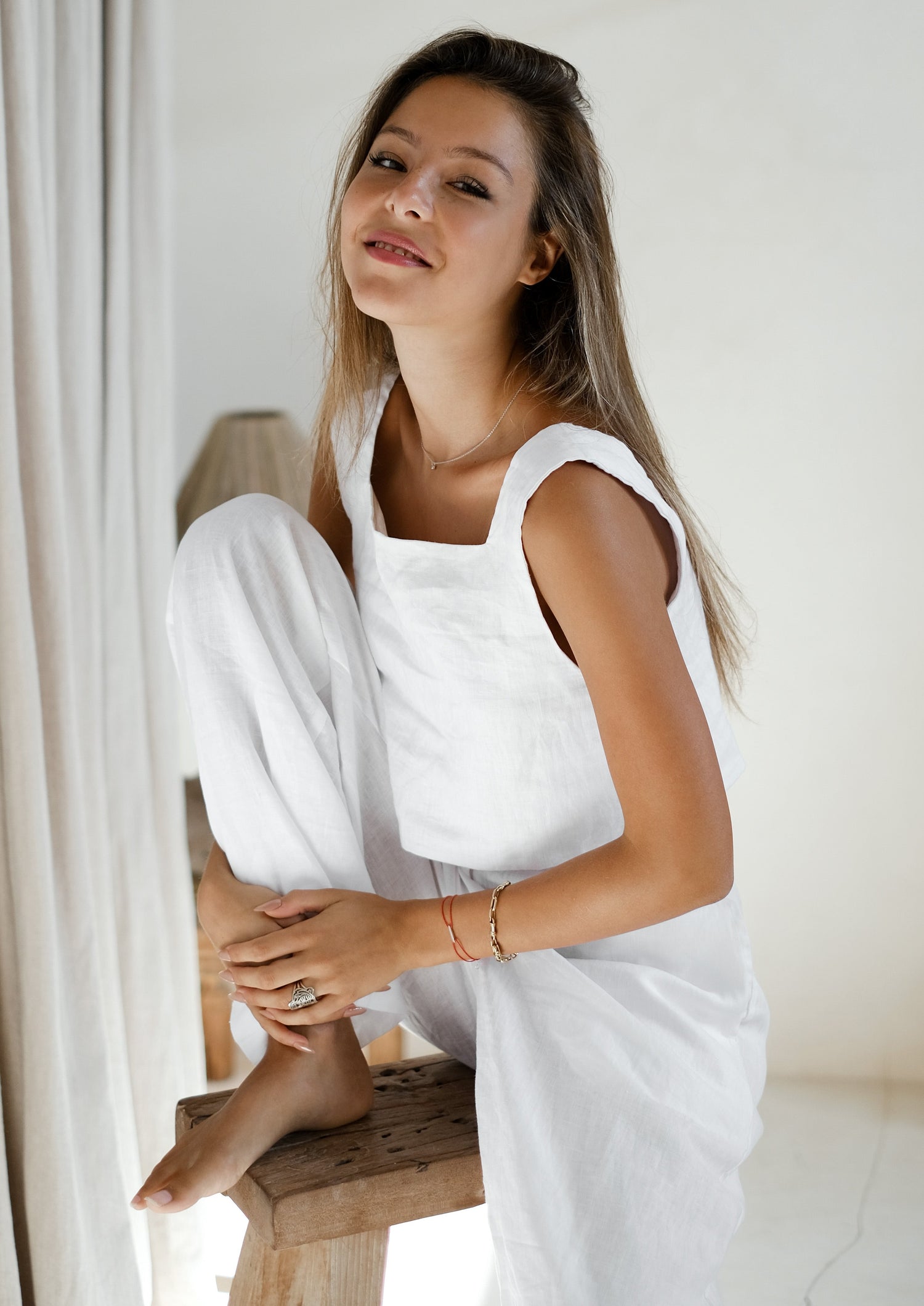 Simplicity is also a value dear to Esme. My creations subtly embrace feminine curves, offering flowing cuts and lightweight materials that allow every woman to feel comfortable and confident. The shoulders are gracefully revealed, the back is delicately revealed, while the legs are suggested. At Esmée, simplicity is synonymous with elegance and well-being, in harmony with femininity.
"I believe that the beauty of women should be enhanced rather than hidden under excessive ornaments or complicated designs" Elisabeth
The choice of the name "Esmée" for my brand was not insignificant. First of all the name of my adorable niece. Its meaning was obvious when the name of the brand. Meaning "esteemed" and "loved", embodies the idea that every woman deserves to be valued and cherished. Each creation by Esmée the label is painstakingly crafted with meticulous attention, aiming to provide not only timeless style, but unparalleled comfort as well.
At Esmée, our mission is to allow every woman to feel beautiful, confident and fulfilled by wearing our exceptional creations. We believe in the natural beauty of each individual and are committed to providing timeless, comfortable and stylish clothing that boosts their confidence and showcases their uniqueness. Join us in this fashion adventure and let Esmée the label accompany you towards a style that suits you, where comfort and quality come together harmoniously.
Elisabeth
Linen

Linen is a natural plant material derived from flax flower. It is a natural fiber considered ecological.

Learn more

Waffle cotton

Waffle cotton is a soft, supple and quite light fabric, which makes it popular for clothing for the summer season.

Learn more

Linen gauze

This fabric has the origin of Linen, is transformed into gas. That is to say linen threads woven to form a very airy fabric.

Learn more
Full transparency
Distribution of materials

Linen gauze : 70% linen and 30% cotton
Linen : 100% linen
Waffle cotton : 100% cotton
Prize Breakdown

Website : 5%
Production (fabrics, sewing, prototypes, ...) : 30%
Packaging: 2%
Marketing (photoshoot, advertisements, ...) : 20%
Logistics: 12%
Export + Import (transport + customs) : 7%
Taxes (VAT) : 21%


Production

100% handmade in Bali, Indonesia.

Use of French (linen) and Indian (cotton) fabrics.

Les ateliers d'Esmée are committed to respecting human and labor rights.